American Academy of Periodontology
Chicago, IL
Case Study: Rebranding of Newsletter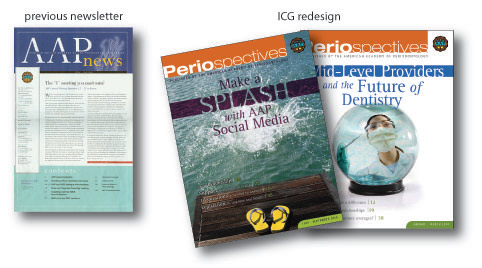 The AAP newsletter, much like the interest level of the readers was flat and boring. It had been in this format for over 10 years and the association decided it needed a facelift. After client research and listening to what the members had to say, ICG set out to rebrand and redesign the newsletter. It needed to have an identity on it's own, and after a concepting round of about 20 names, Periospectives was chosen (blend of Periodontology and perspectives). Original, catchy, professional, and descriptive.
The graphics and form needed a face lift. Rich images (both full bleed and on white backgrounds) anchor the covers. Clean lines, minimal type, and small violators increase the visual appeal and entice the reader to read more. The size of the newsletter was also reduced from 13" x 19" to 8.5" x 11", a more practical and traditional magazine size that is easy to put in a briefcase or take on the go. Also no folding required and cheaper to print.
Results:
The new Periospectives has been a huge hit with members and breathed life into a stale and often unread publication. After only 3 issues the client reports that the rebranding has been largely successful with members using the term "Periospectives" as though it was an industry standard term. The new magazine won 4 different design awards.
American Society of Mechanical Engineers (ASME)
New York City, NY
Case Study: Marketing to Students

ASME is a global association of Engineers. For many years their bread and butter has been in production and publishing of widely accepted codes and standards. Recently they decided that they want to promote the association and increase recruiting efforts amongst college students. The intention was to attract younger members who would learn about the values of membership and hopefully continue their membership as they transition into their professional careers.

ICG and the ASME marketing staff worked together to develop the concept of a student member toolkit. This package of marketing materials would be sent out to ASME liaisons at all of the affiliated schools. They would use these materials to recruit students at orientation, meetings, or as postings on bulletin boards. Each kit consisted of 2 postcards, 2 letters, 25 applications, 6 posters, 131 fliers, business reply cards, business reply envelopes, 25 brochures, a 2G flash drive, 25 keychain flashlights, 25 stickers, & business cards. In addition to these materials there were also HTML emails. The print materials were contained in a mailing box and shipped to over 700 schools around the globe.

ICG handled all aspects of this project from conception thru copywriting, design, print, and mailing. With over 25 original new pieces of printed material, there were dozens of revisions and proofs being sent back and forth and hundreds of emails. Mailing lists needs to be vetted and NCOA'd, copywriting tweaked, & custom photo shoots were done, etc.

With a project this size, effective communication and an efficient workflow were paramount. In order to stay on deadline and on budget we needed to work fast, yet maintain thoroughness and accuracy. In the end the client was extremely happy with not only the way the final product turned out, but the efficiency and care that was put into the development process. Multiple emails were sent from the client complimenting the customer service and quality.
Alzheimer Association
Chicago, IL
Case Study: Trade show marketing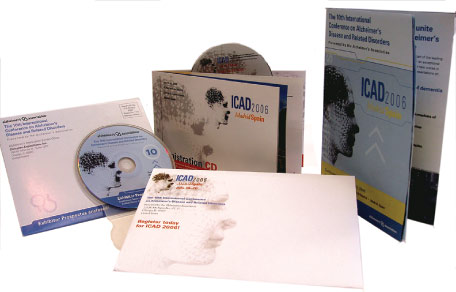 The Alzheimer's Association ICAD conference is their annual conference. It draws over 4000 attendees each year. A few years back ICG was selected to design and produce the promotional materials for the conference. The client wanted a look that was modern, medical, technological, and contained a human element, but didn't want any of photos of people. ICG developed the computer image of a head, and that served as the anchor of all promotional pieces.
The printed materials included a prospectus CD, a poster/ brochure that was mailed, and a registration brochure and CD-rom that contained a fully interactive flash program brochure. All pieces were worked on simultaneously and under a relatively short deadline. The client was very pleased with the results and received many compliments from conference attendees.
Association of Clinical Research Professionals
Alexandria, VA
Case Study: Logo/ Identity Rebranding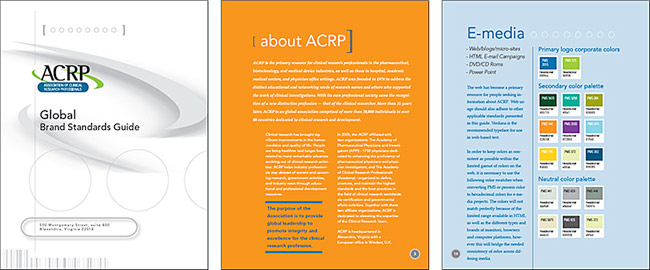 The Association of Clinical Research Professionals is a 40 year old association that represents over 20,000 research professionals. The association has used the same logo since its inception. In recent years the association has made strides that have changed it's core philosophy and services offered. The decision was made to update the logo to coincide with the fundamental changes. With such an established brand the change was a sensitive subject and needed to be approached with care. ICG performed a complete brand analysis, conducting research and interviews with all levels of staff and members. After the brand analysis was completed, dozens of logos were developed, grouped in specific segments (global logos, technology, human/ high touch, and certified). The selected logo maintained the same layout and structure, yet added a modern three dimensional twist. It was recognizable, yet updated... much like the association itself.