Volume 4
The Crossroads
Things to know as you begin a relationship with an ad agency
by Cary Kanno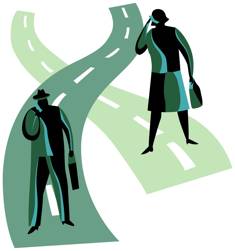 So you work for a company that for whatever reason is considering out-of-house assistance with their marketing. There are many things to think about and you may have several questions as you consider this leap into the world of marketing agencies. Do we want to hire a freelancer or an agency? Where can we find a good agency? What are the benefits and disadvantages of using an agency vs. doing the work in-house? How much is this going to cost us? What should we expect to pay? How do I make sure our projects go smoothly?
As an advertising agency insider and marketer myself, I've had the opportunity to experience many successful and some not-so successful client-agency relationships. Being aware of some basic issues and inner workings of the client-agency relationship will not only make this transition smoother, but it could save you a lot of time and headaches. So whether you're outsourcing a marketing project for the first time or seeking to start a successful new relationship with a marketing agency, this exposition will serve as a guide as you traverse your way through the initial stages of a new agency relationship.


Do We Need To Outsource?
Before you jump headfirst into an agency relationship you may first need to decide if outsourcing is right for your situation. This will be an internal decision based on your individual situation, but there are several universal guidelines that hold true. The alternative to outsourcing your advertising needs is to hire an in-house graphic designer. If you decide on this route, the company will be able to utilize the in-house designer for all of its design needs while maintaining a consistent design budget. As your advertising demands grow, your designer's salary will remain fixed. Another added benefit is the accessibility of the in-house designer. They are typically located on site and widely available for meetings or project discussions.
Your other choice is to outsource your advertising and marketing projects. You basically have two methods of commissioning an ad agency: you can sign a contract and pay an agency a fixed amount per month for a predetermined duration (a retainer), or you can hire the agency on a per project basis. There are numerous advantages in choosing to outsource:

• Wider talent pool: Whenever I interview prospective designers for new positions I like to ask the question: "why do you want to work for an ad agency?" As a rule of thumb, the bulk of talented graphic designers who graduate from school with an art degree will seek employment on the agency side as opposed to being a corporate in-house designer. They hold agency work in higher esteem and find it appealing due to the fact that they can work on projects for several different clients. In-house corporate designers can be forced into repetition, working on the same materials and adhering to the same design guidelines time and again, which is unattractive to many designers. Another benefit of Agency work is that it will allow them more creative license and they will develop a more impressive personal portfolio.
• A fresh perspective: All designers have an individual style that they develop over time. When dealing with an in-house designer your marketing materials may be limited by your particular designers style. Over time your materials may begin to look "recycled" from previous projects. With an outside agency, you have the advantage of utilizing several designers to get more varied design styles.
• An outside perspective: Last year I worked with a company that had the problem of being "too close" to the product that they were trying to advertise. With a little market research we discovered that their target audience was confused by their direct mail and advertisements and as a result, did not take the time to decipher the message. These campaigns were being created in-house, and were not clear and concise enough for their prospective customers. Our outside perspective helped the company take a step back while we created effective materials for their target market.
• Range of services: Marketing agencies will typically offer a wider array of services than in-house designers. This may include copywriting, marketing strategy, web and multimedia design, photography, illustration, printing, fulfillment, market research, media purchasing, television or radio advertising, sweepstakes promotion, etc.

What to look for in an ad agency

If you have made your decision that your company would benefit from an outside agency, you should be aware of a few things before you embark on your search. There are several categories of advertising agencies. There are agencies that specialize in particular industries such as banking, auto dealerships, and medical services. Then there are agencies that specialize in a particular form of media such as television ads, radio, print, trade show materials, sales promotions, billboard advertising, etc. You can also have an agency that chooses not to specialize and offers services across all industries and media forms. An agency that specializes can bring a greater level of expertise and detail to its clients. They are able to focus on one industry or form of media and will bring that experience to your projects. However, some marketing managers choose not to work with a specialized agency because they feel that their industry and the capacity of their agency does not require it. They would rather choose an agency based on the quality of their advertising and marketing work.
An important criterion to consider is the size of the agency. As a general rule of thumb, the larger the agency the greater their fees. There are four different sizes of outside advertising resources:
- Freelancer: The primary advantage is that their rates tend to be the lowest. On the negative side, many of them work full time jobs and do freelance work on the side. This will make communication difficult as well as leave you at the mercy of their schedule. If they get flooded with projects, or if they go on vacation your projects may suffer. You also need to be concerned with the permanence of a freelancer. They may get a full time job, or move locations, or simply decide they don't want to freelance anymore. They also do not have access to the resources that the other 3 categories of firms may have.
- Small Firm (under 10 employees): They will have lower overhead than a medium or large firm and are able to offer lower rates (although not as low as the freelancer). Often times these small firms are started by former employees of larger ad agencies. They are able to offer a wide array of services while keeping their costs down. They do this by maintaining relationships with a network of freelancers who offer services that they do not need every day such as photographers or illustrators. For smaller to mid-sized marketing departments this may be the best option.
- Medium Firm (10-100 employees): They offer many of the same services as the large firms, yet they try to retain the smaller firm feel. They will give a client attentive account service and offer many services in-house, this however results in higher rates than most small firms.
- Large firm (100+ employees): These are the big agencies. They are for companies with larger marketing budgets that rely heavily on their ad agency and use them frequently. Each client will have several account reps and a dedicated team of designers, art buyers, copywriters, strategists, etc. Big agencies work with big clients.
There is an old agency adage that goes: "there's good, fast, and cheap, pick any two". Ideally you should find an agency that offers all three qualities, but you may need to do your homework and do some searching. Look for an agency who has been in business for a while, and who has a large portfolio of quality work. Most likely these agencies have dealt with a great assortment of printers, copywriters, photographers, illustrators, designers, marketing strategists and web designers. They are well in tune with the advertising community, and are in the know on who offers the best services at the best rates. They offer a client the significant benefit of these connections. As an example many ad agencies will outsource print jobs for their clients. Print vendors often seek out these agencies and will grant them better rates, faster turnaround, and better service in exchange for volume and consistency.

Common Problems when dealing with an ad agency
Many of the client- agency relationship problems I have bared witness to stem from issues of cost and miscommunication. An agency search and acclimating a new agency to your company requires time, which ultimately translates to money. In order to avoid spinning your wheels here are some common problems to be aware of:

• Champagne taste on a beer budget: If you are a marketer who has never used an ad agency you will probably not be aware of typical advertising agency costs. I have seen marketing managers spend hours and hours seeking out an agency, holding agency meetings, and detailing a project they want an estimate for. They'll need a 30 page catalog, and a 30 second radio ad, yet they only have $1000 in their budget. When they receive the estimate a few days later, their jaw drops and you have a classic case of sticker shock. If you have a smaller budget for a project, let the agency know. They can guide you as to what can be accomplished within your budget. If you don't know or don't want to share your budget then ask the agency to ballpark an estimate and go from there.
• Too little information: On the flipside of the previous situation, a client could give too little information. Asking "how much will a new website cost?" is a loaded question. The answer will be quite different depending on many factors. Be prepared to give the agency details such as:
- How many "looks" or comps you want to see. 2-5 comps are the average, but can be anywhere from 1 to 15.
- After you select the comp that you want to go with, they will roll out the rest of the project. You will be able to make edits and changes to the project after each round of changes. You should tell the agency how many rounds of these revisions you want.
- How many pages will the brochure or website be? How long will the radio/ TV commercial be?
- Do you need any marketing research done?
- Are you supplying the imagery/ photography/ copywriting or is the agency going to do it?
- For TV or radio will you be providing the voice/ on-camera talent or should the agency procure it?
• The learning curve: Every time a marketing department begins working with a new agency there will be a learning curve to overcome. The agency must not only learn the business and industry, but the corporate culture of their new client. The client and agency must learn each others work styles. Do they like to communicate via email, phone, fax? Does the client want maintain close control of what the agency, or do they want them to run with the ball?
How to ensure your first jobs go smoothly
When you decide on an agency and are about to outsource your 1st job, there are a few things to be aware of to ensure your project runs smoothly.
- Provide ample time for the project: I know this is not always possible, but it could save you money. Even if it's not listed on the estimate, many agencies will build in a rush charge for fast turnaround. They may need to push aside other clients projects to work on yours, and for that there is a fee.

- Ask for a timeline up front: Tell the agency the due date before they draft an estimate and ask them to provide a timeline for each phase of the project. In order to do this you will need to let the agency know how fast you can have changes and revisions back to them, as that will affect their timeline.
- Revisions: Be sure to ask for enough revisions up front. You will typically get anywhere from 1-3 rounds of revisions. Be thorough with each round of revisions. It's best to submit all changes at the same time, and make sure that they are comprehensive. If you keep submitting edit after edit you will exceed your prescribed number of revisions and will be charged additional fees. The agency may not even tell you when you are incurring these charges.
- File preparation: Try to be as organized as possible. Give the agency any materials they may need up front including: photos, copywriting, images, and a mocked up paper dummy if it is a printed piece. Be clear and concise in your directions. Label your folders and images properly, tell them where each piece of copywriting will go. If you are supplying images, make sure they are high resolution (300 dpi) for print (72 dpi for web).
- Look over changes thoroughly: After you get the comps back, look over them thoroughly. Remember that you have the ultimate approval for what gets submitted for the final product.
- Mark up a PDF: These days most agencies will provide you with electronic proofs, often times in PDF format. Learn how to use Adobe Acrobat to electronically mark up the changes to the proof. It is quite easy when you get the hang of it, however you do need the full version of Acrobat rather than just the reader. This is a much better option than marking up a proof and faxing it over. Faxes are hard to view and depending on your handwriting, your edits could be misinterpreted.
- Printing: Having the ad agency handle the printing and fulfillment of your project will also ensure a smooth process. They will not only take care of the administration, but they will take on the liability of the print. This means examining the press proofs, going on press checks, and making corrections. About one year ago I had a client have us make a significant print run on a 6 page brochure. When the job was completed and we scrutinized the final press sample we noticed that the ink was uneven, the pages didn't line up correctly, and the stock was lighter than what was quoted to us. Because my agency was a good customer of this printer they re-ran the entire job at no charge.

If you look out for some of these pitfalls and prepare properly, your transition into an ad agency relationship will be smooth as silk. With a little homework you will be able to choose an agency that is right for your company's needs. As you begin working on your initial projects you will reduce the likelihood of miscommunication, projects will be turned around quickly, and you'll avoid handfuls of explanatory emails and phone calls. With any luck they may think you've been dealing with ad agencies all your life. Remember that an agency is there to assist you. They are your vendor, but more than that they are a strategic partner. When you succeed, they succeed. With a little knowledge and understanding you will forge a long and fruitful client – agency relationship.
For the past 10 years Cary Kanno has been the Marketing Director for Imagine Creative Group, Inc. in Chicago, IL. He has worked with a wide variety of clients including: National Association of Realtors, Underwriters Laboratories, American Psychological Association, Starbucks, Siemens, American Dental Association, and Alzheimer's Association. He holds a Marketing Degree from the University of Wisconsin.

Imagine Creative Group, Inc. is a full service marketing agency
for more information on our services please call 312.397.1706

www.imaginecreativegroup.com
cary@imaginecreativegroup.com


Here are some of the services offered by ICG:
Electronic Media:
html web and email design
email tracking
flash design
cd-roms (flash, pdf, html)
powerpoint
html web banners/ ads

Print design:

direct mail (catalogs, postcards, other mailers)
posters/ fliers
pocket folders
tradeshow graphics (vinyl banners, exhibit film, etc)
business cards/ stationary
point of purchase displays and signage
logos/ identity
collateral
packaging

Marketing, Printing, and other services:
branding
marketing plans
market research
copywriting
printing
print-on-demand (POD)
web to print
personalized url's (purls)
variable data printing
mailing/ fulfillment
sweepstakes/ contest promotions
Radio advertisements